Description
Ovex Suspension Threadworm Treatment
Buy Ovex UK Online
My Pharmacy is the Best Place to Buy Ovex UK in 2019. To Buy Ovex Family Pack Online in the UK you are required to have a prescription, which you can acquire with our free online consultation service.
Buy Ovex Next Day Delivery
Through My Pharmacy you can Buy Ovex Online UK Next Day Delivery. Each treatment is sent out in secure and discreet packaging ensuring that you get your medicine on time and intact.
How Does Ovex Work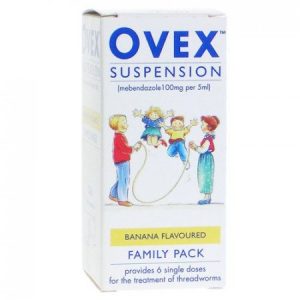 When looking for Ovex Threadworm Treatment or Ovex Worming Tablets Online consider the banana flavoured version.
Here is a quick rundown on "How does Ovex work?"
Ovex threadworm tablets and suspension contain the active ingredient called Mebendazole, which belongs to a group of medicines called anthelmintic.
Mebendazole works by preventing the worms from being able to absorb sugars. These sugars are essential to their survival, therefore limiting or completely getting rid of the absorption of sugars helps deplete the energy stores of the worms. This eventually leads to the worms dying within a few days. Once dead, the worms are then removed from the body by going through the gut and into the persons stool.
However, this treatment only kills the adult worms and their eggs, so it's important to treat the whole family. During or after the treatment it is also recommended to keep your hygiene meticulous to avoid swallowing any new eggs which can cause a new infection.
This is how does Ovex works and how to avoid reinfection. You can buy Ovex UK via My Pharmacy.
For more information about threadworm and other parasitic infections, click here.
How Long Does Ovex Take to Work
We are often asked the question "How long does Ovex take to work?"
With Mebendazole being the main active ingredient included in Ovex Threadworm Medicine it may take up to a couple of days for the worms to die. Immediate relief is impossible and you may still notice worms or itching even after taking the Ovex Threadworm Medicine.
This is because of Mebendazole stopping the worms from feeding off of sugars (glucose), which causes the worms to die of starvation.
How long does Ovex take to work? Not very long and you could be rid of any worm infection within a couple of days.
Ovex Side Effects
Like with all medicine, Ovex Side Effects can occur but these aren't experienced by everyone. If you experience any of these Ovex side effects, especially if any of them are getting progressively worse, immediately stop and speak to your doctor as soon as possible.
Below is a list of Ovex Side Effects experienced more, or less when people have taken the Ovex Threadworm Treatment.
If you experience any of the following symptoms, immediately stop taking the medicine and seek medical help:
Rare
Convulsions
Allergic reactions including unexplained wheezing, shortness of breath, sudden swelling of your face or throat, and hives.
Skin rashes, some of which may be severe and include blistering or peeling of the skin and itching. These can be accompanied by a high temperature.
If you experience any of the following, stop using the medicine and talk to your doctor or pharmacist:
Common
Stomach pain
Uncommon
Stomach discomfort
Diarrhoea
Wind
Rare
Abnormal liver function/inflammation of the liver
White blood cell reduction
Unusual hair loss
Dizziness
Very Rare
Inflammation of the kidneys
Nausea
Vomiting
Ovex Over the Counter
Ovex can be purchased in store at Ovex Boots, Ovex Tesco, and Ovex Asda but can also be purchased online at My Pharmacy by clicking the link above.
Ovex Tesco, Ovex Asda and Ovex Boots can be bought from their instore pharmacies or their online shop.
Ovex Liquid
Check the table below to see how much Ovex Liquid to take.
Always shake the bottle thoroughly before use.
The suspension should be taken with the 5 ml measure cup included in the pack.
For oral use only.
Do not use more than the stated dose shown in the table.
Always supervise a child if they are taking this medicine.
Adults and children aged two years and over should take one 5 ml dose per family member.
If symptoms do not disappear within a few days, speak to your doctor.
If anyone takes too much Ovex liquid, contact your doctor or go to the nearest A&E with the medicine leaflet.
Ovex Threadworm Medicine Treatment
For the majority of people taking one dose of Mebendazole will kill any of the worms currently infecting your system and if necessary, another dose can be taken after two weeks.
During and after the period of treatment, it's important to keep up a high standard of hygiene due to chance of reinfection. This stops any eggs from spreading and reinfection a new host.
Treatment isn't for everyone though and you'll need to see a GP only if you think any of the following applies to you:
You think you have threadworms and are pregnant.
Your child has threadworms and is under two year old.
When to Take Second Dose of Ovex
Do not take a second dose of Ovex unless your Doctor or Pharmacist has instructed you when to take second dose of Ovex.
Generally one dose of Ovex is sufficient and should kill any adult worms, however on some occasions people may become infected again because of various factors.
This is when your pharmacist may recommend that you take a second dose, two weeks after the initial one.
Ovex Worming Tablets
Ovex Worming Tablets are the other form that Ovex comes in other than its suspension variant.
Ovex worming tablets are used to treat worm infections such as Roundworm, Threadworm, whipworm and hookworm. Each tablet contains 100 mg of Mebendazole, its active ingredient.
You can buy Ovex UK and buy Ovex family pack online via My Pharmacy by filling out the above consultation form.
Alternatives to Ovex Family Pack
Here are some alternatives to Ovex. Buy Ovex Online UK and other alternatives online via My Pharmacy UK. Ovex next day delivery is available here.
Vermox 100 mg Tablets
Vermox Suspension 30ml
Do You Have A Threadworm Infection?
They are common in children and require Threadworm Infection Treatment. Consequently they can spread to the rest of the family. You may see threadworms in your poo. Threadworms come out at night and you may see them around you child's bottom. Other symptoms include an extremely itchy anus or vagina. Additionally waking up at night and irritability may occur. Less common symptoms include weight loss and irritated skin around the anus. Use Ovex Suspension to treat Threadworm.
Ovex Suspension Banana Flavour is a medicine which is used to treat threadworm (sometimes known as pinworm) infections of the gut.
The Ovex Suspension Mebendazole tablet contains Mebendazole, which is one of a group of medicines called 'Anthelmintics'. This medicine is for use in adults and children aged over 2 years.
What Are Threadworms? Ovex Threadworm Treatment
Threadworms (Enterobius Vermicularis) are tiny white parasitic worms that live in the bowel. They are approximately half an inch long and resemble threads of white cotton – hence the name threadworms. All Threadworms will require a Threadworm Infection Treatment like Ovex Medicine. Buy Ovex Suspension online with the link above.
How do you prevent reinfection?
Threadworm eggs can live outside the body for two weeks. Wash your hands and scrub under your fingernails. Particularly before eating. Bathe or shower every morning. Next, keep your finger nails short. Additionally disinfect kitchen and bathroom surfaces. Finally, make sure children wear underwear at night – change it in the morning.
Do not shake clothing or bedding, this will spread the eggs. Also do not share towels or flannels. As the eggs spread on your fingers. Which could result in you getting a Threadworm Infection Treatment, which will require treatment with Ovex Suspension 30ml.
Ovex Suspension Dosage
Always shake the Ovex Suspension 30ml bottle thoroughly before use. The Ovex Suspension Dosage should be taken using the 5 ml measuring cup in the pack. For oral use only. Do not use more than the stated dose shown in the table. Always supervise a child if they are taking this medicine.
Please refer to the Ovex Suspension Leaflet for more information.
Threadworm Treatment For Under 2s
Do not give to children under 2 years old, do not use Ovex Suspension 30ml as a Threadworm Treatment For Under 2s. Ovex Medicine is a Threadworm Treatment Adults and children over 2 years old.
Buy Ovex Suspension Online UK from My Pharmacy – Start Your Free Online Consultation Above.